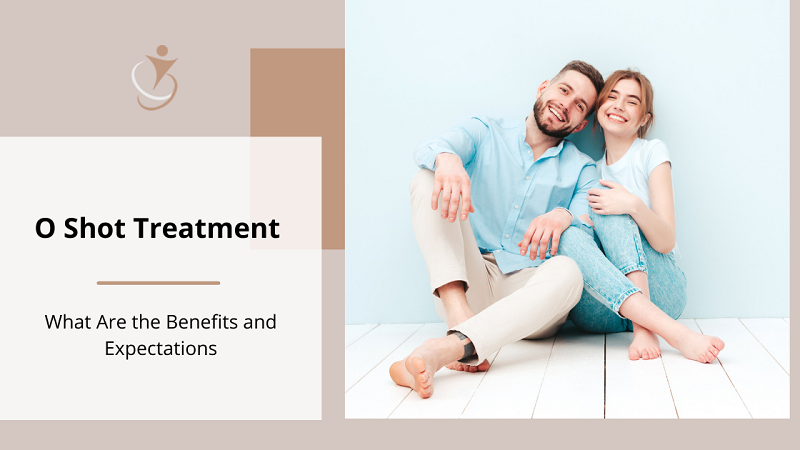 O-Shot or Orgasm Shot is a non-surgical procedure that uses your blood platelets that are first extracted from your blood and later injected into your vaginal tissue. In simpler terms, the O-Shot is a type of platelet-rich plasma (PRP) treatment for your vagina.
The O-shot treatment has gained popularity recently among women who experience sexual dysfunction and urinary incontinence. The result is that it improves female sexual health and experience.
Why O-Shot Is Used?
O-shot is used to treat various sexual dysfunction or issues in your body like:
Vaginal Dryness
Urinary incontinence
Lack of sexual desire
Inability to become aroused or orgasm
Pain during intercourse
How Does an O-Shot Work?
The O-shot procedure starts with drawing rich-plasma blood from the patient's body. Platelet-rich plasma is then extracted from this blood. Once the platelet-rich plasma is extracted from the blood, it is injected into the numbed area near the clitoris and upper vagina. This O-shot procedure is typically painless; a numbing cream is applied before the procedure. O-shot treatment is completely safe because it is a non-surgical clinical procedure.
How Long Does It Take to Show the Results with an O-Shot?
The benefits of the O-shot treatment will take at least a week to show due to the body needing time to develop new tissues. The O-shot treatment will then show optimum results after 3 months. Although, there is a chance you may experience an increase in sexual desire and pleasure immediately. Patients have witnessed increased vaginal sensation, improved ability to have an orgasm, stronger and more frequent orgasms, increased natural lubrication, decreased pain for those experiencing painful sex, greater arousal from clitoral stimulation, and smoother skin of the vulva.
Potential Side Effects and Complications of O-Shot
Since the O-shot treatment is a non-surgical procedure that involves injecting the patient's plasma-rich blood, most patients experience minimal to no side effects after receiving the treatment. However, some possible side effects include mild redness and swelling or numbness for the first few days to one week. Pain and soreness at the injection site are expected effects after the treatment. These effects usually vanish, and new tissues are formed in the vaginal region.
What to Expect with O-Shot?
The results can vary depending on the patient's starting point. A few major factors are vital, such as age, medical conditions, and hormonal problems. They can determine the results. The injection is not an immediate formula. Most of the women experience instantaneous exciting effects, while the others may notice a marked improvement.
Why Choose Dr. Sagar Verma?
Dr. Sagar Verma has trained with Dr. Charles Runnels, the inventor of the procedure, and has been doing the procedure for the last four years with great success. He is double board certified and is a member of the Cellular Medicine Association of America, the American Medical Association, and the Obesity Medicine Association. Dr. Verma has also completed advanced training in Botox, lip injections and other fillers, vampire facial and facelifts, O-shots, and P-shots. He is also pursuing a fellowship in integrative medicine.
If you are facing any sexual dysfunction or want to learn more about the O-shot procedure, schedule an appointment for a consultation at Lifestyle Physicians' Aesthetics, or contact us today to schedule a one-on-one consultation with our professionals! Our team is here to help you with any questions or concerns.
Also Read:
How Effective Is Botox?
Tags: